What our exchange students say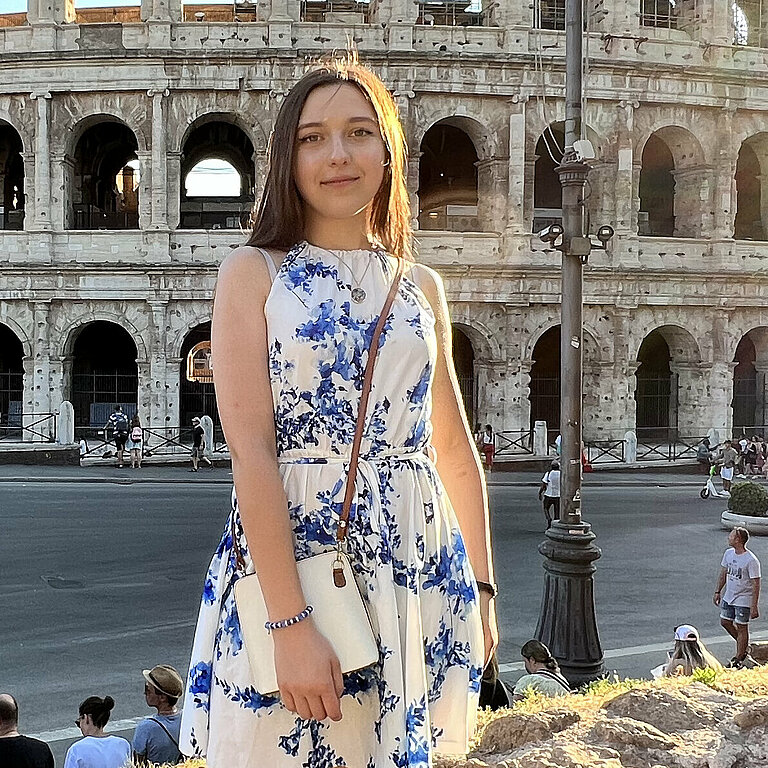 Asya from Bulgaria
"I was positively surprised that it is super easy to navigate around Hof University's website where all the information you need is explained easy and in detail.

The university has an amazing, warm International Team organizing a welcome week, the purpose of which is to assure that all new students have a smooth start in their Hof journey. As we all know, finding a place to stay is a big challenge, but not in Hof. The Housing Office is helping all new international students with finding an accommodation.

So, you after knowing the campus, getting to know Hof area and having a place to stay, what about social contacts? It is a peace of cake to make friends and contacts here, because everybody: Professors, employees of the university and students are warm, communicative and speak English, as well 😊"
Giulia from Italy
"What I liked most about my exchange period is my personal growth.

Hof was my first experience abroad and I had conflicting feelings before leaving Italy: fear and excitement. They were mainly due to three things: speaking in a different language, leaving people I love and making new ones and adapting myself to a new way of learning and studying at Hochschule Hof."
Pamela from Mexico
"My exchange in Hof University changed my life forever. I met incredible people who now I know they will be my friends for life. My classes were interesting and I always felt comfortable with my professors, who always made me feel supported. I came here because the study program and topics that I was offered gave me the opportunity of expanding my knowledge and I am grateful for what I learned.

Living in Hof was different in what I expected, however it has a lot of beauties and hidden gems that along with my friends full-filled my heart. Now I have an experience that I will never forget and I invite the future students to integrate to the different activities that the university offers, such as the movie nights or the student clubs and to not be afraid of socialize as much as you can (coming from an introvert)!"
Paola from Mexico
"When I was in high school, I realized how much I wanted to make an international student exchange and live all the experience it brings: new friends, new cultures, new ideologies, maturity, independence, advanced knowledge, and a lot of work experience. I decided to go to Germany. When I saw all the possible options, Hof University captured my attention because it offered many subjects in English that were very interesting to me and the language was not going to be a problem.

One of my favorite subjects right now is Computer Science for Engineers and Vocabulary in Use for Engineers. In the first one, I have learned a lot about databases that nowadays are so useful in companies. The second subject has enhanced my vocabulary when it comes to special terminology in the manufacturing area. I firmly believe that every subject will be of help for my future career and will give me different insights and opportunities in the labor field.

If you want to live an enriching and fun exchange experience, don't hesitate, Hof University is the right place. You will not regret it!"
Nataliia from Kyrgyzstan
"I chose Hof University because I was attracted to the opportunity of studying in an international environment and experiencing a different educational system. The double degree program I currently pursue allows me to gain exposure to both German and Kyrgyz educational systems, expanding my knowledge and perspectives. Additionally, Hof University has a strong emphasis on applied sciences and practical training. As a Computer Science student, I wanted to gain hands-on experience and be well-prepared for the industry.

The university's collaboration with industry partners provides excellent networking opportunities and the chance to work on real-world projects. In Computer Science we learn about fundamentals concepts such as algorithms, programming languages, and software development methodologies. The program also allows for specialization in areas like artificial intelligence, data science, cybersecurity, and software engineering. For example, in the course Software Engineering, my fellow students and I collaborated in teams to develop a software application from the scratch, following industry-standard practices and utilizing tools and frameworks. This kind of experience enables us to grasp the complete software development lifecycle and prepares us for future roles in the industry."
Exchange and program students are nominated by their home institution to study at Hof University of Applied Sciences for one or two semesters. Please have a look at our fact sheet for exchange students. Also notice that unfortunatly we cannot accept any freemovers.
Exchange agreements exist between the partner universities. It is also possible to study at Hof University of Applied Sciences within the framework of the ERASMUS+ program.
General information on our exchange program
For attending lectures in English or German, students need at least B2 according to the Common European Framework of Reference for Languages.
According to the guidelines of the European Commission, 60 credits represent the workload of a full year of study; the workload for one semester corresponds to 30 credits.

Credits are awarded only when the module has been completed and all required examinations have been successfully taken. Exchange students can take as many modules as they wish but it is advisable to take no more than 30 – 35 credits.
Undergraduate students can choose their modules from any of our Bachelor's programs only. Postgraduate students can choose their modules from any of our Bachelor's and Master's programs.

However, all exchange students must fulfill the requirements set by their home institution.
Our services for international students
Our Housing Office supports international students in finding their first accommodation if they are not in Germany yet.
More information can be found on our housing office webpage.
Prior to the start of each semester, we organize an orientation period for all new international students. You can expect social and academic guidance, assistance with administrative issues and special social and cultural activities for integration.
We will help you smoothly settle in your new personal and academic
environment!
The International Office together with the International Student Network assist you before and during your studies in any social and academic belongings.
You will be guided through the German bureaucracy jungle by the International Office Hof before, during and after your studies at Hof University.
During our Orientation Weeks and throughout the whole semester, the International Office and the International Student Network organize several events, get togethers, and excursions/city tours for the international students.
Our Language Center offers free German courses during the Orientation Weeks and throughout the whole semester as well as other language courses. Find more information on the webpage of our Language Center.