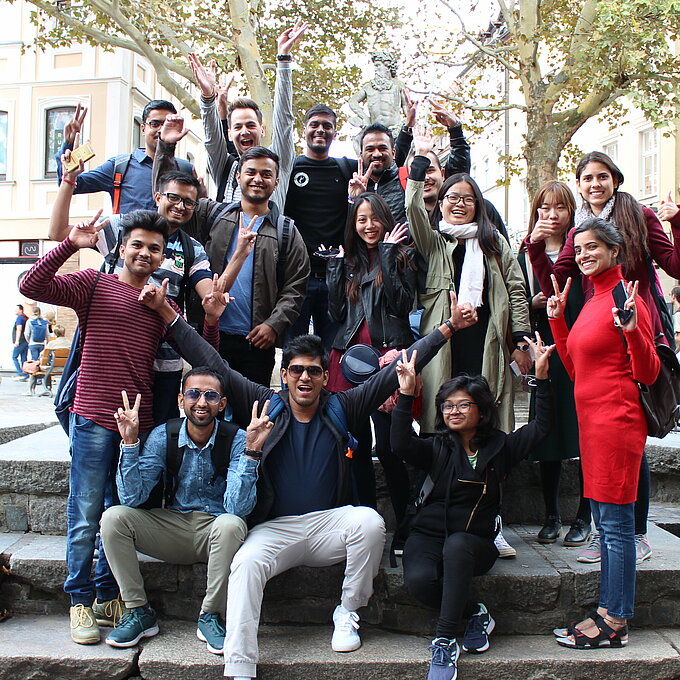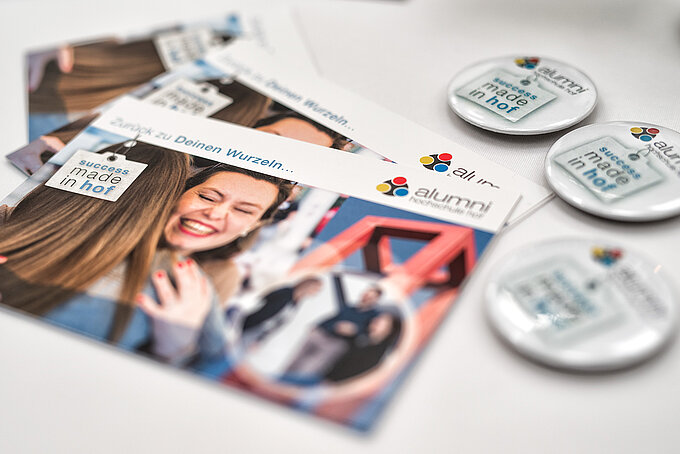 Alumni network Hof University e.V.
The Alumni Network is the association with the largest number of members at Hof University and offers a home to all former students. More information and the possibility to register can be found on the alumni website.
The Campus Store Hof offers merchandise in university design to all interested parties. During the semester, the items can also be purchased on site at the campus. We will inform you about the dates via mail and social media.
Contact: sv[at]hof-university.de
consulting.hoch.franken e.V.
You are studying at Hof University and are interested in exciting projects where you can practically apply your knowledge from your studies? Would you like to develop personally and professionally and gain valuable experience for your future career? Then the student consultancy consulting.hoch.franken e.V. is the right place for you!
We are an initiative of committed students from all disciplines who volunteer as student management consultants in addition to their studies. We advise companies from various sectors and industries on current challenges such as marketing, sales or process optimization.
As a member you benefit from the following advantages:
You will get to know the work of a management consultant and expand your methodological and professional know-how. You will establish valuable contacts with other students, alumni and companies. In addition, we have a large network of well-known management consultancies where our members regularly get internships or working student jobs.
If you are interested, please apply now on our website. We look forward to hearing from you!
Contact: info[at]consultinghochfranken.com
Indian Student Association (ISA)
For Indian students abroad, the new culture and life are often challenging. This is where the Indian Students Association - ISA comes in: The student initiative has a common cultural background and thus wants to support all members and accompany them through the ups and downs of student life.
Since a large number of Indian students come to Hof every semester, ISA wants to offer them a platform to get in touch with each other and build a strong network. Whether you are new and looking for help finding your way around campus and the city, or just want to connect with fellow Indian students, the Indian Students Association is here for you! ISA's vision is to make Indian culture known in Germany and to celebrate it with all Indians and international students.
International Student Network
Every semester, the International Student Network accompanies our international students. As an foreign student, you either spend part - one or two semesters - at Hof University as an exchange student or complete your entire study period here. We would like to make your stay as easy and also as exciting as possible with accompanying events and cultural activities during the semester! In addition, we are available to help you with any questions you may have. Our program includes:
Orientation Weeks
Regulars' tables (traditional German "Stammtisch")
Cinema evenings
Running Dinner
Language Café
Other activities and excursions
Contact: isn[at]hof-university.de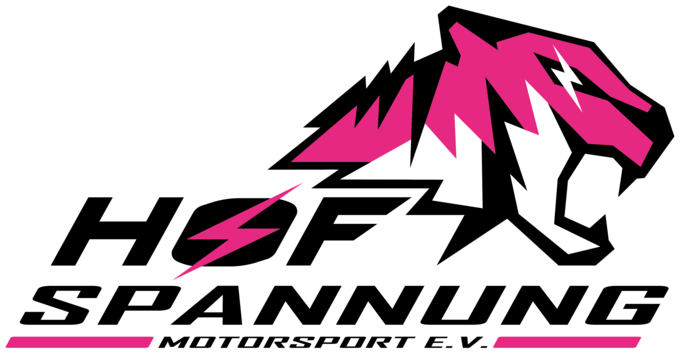 Racing team HofSpannung Motorsport e.V.
HofSpannung Motorsport e.V. is the current Formula Student Team at Hof University. The common goal of the members is to develop a new racing car in order to participate in international competitions with it every year. This will be held among university teams from all over the world. For this we need your commitment! Contribute your knowledge from your studies - whether with a mechanical, electrotechnical or commercial focus.
Here you can find out more about our current team and sponsors.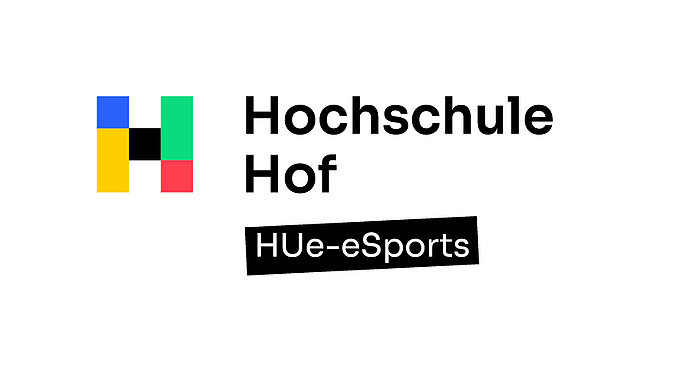 HUe - Hof University eSports initiative
eSports, in short, is the professional playing of video games. Although it is still a fairly young trend in its current form and size, competitive team games have been around for over 30 years! Since the winter semester 2021/22, the HUe - Hof University eSports initiative has been in place at Hof University. The goal is to build up a community around the topic of eSports on site and to enable students to make contacts. Furthermore, we want to show presence in the Uniliga.gg with HUe - eSports and compete with the best national teams.
We are looking for players as well as creative minds who want to support us, for example, as coaches or organizationally.
Contact: eSports[at]hof-university.de
The Fairtrade Group at Hof University is like a non-profit organization that aims to provide information about Fairtrade products in and around Hof as well as beyond the region. The project Fairtrade University was once born in the focus "Sustainability, Environmental and Energy Law" within the study programm Business Law. To keep the title, it is necessary, for example, that we regularly sell two products at Hof University that have been grown and traded fairly.
Interested in becoming a member? We are looking forward to receive your email: fairtrade[at]hof-university.de
StartupLab Hof is one of the essential bricks of the startup ecosystem at Hof University. More precisely, it is a contact point for all questions around the topic of entrepreneurship within the university. We support you in developing a business idea and building your own startup. The offers of the StartupLab are aimed at all university members.
Our vision: entrepreneurial thinking, striving for innovation and the promotion of inventive talent should be firmly anchored in the university's self-image. We want to create awareness for the topic of start-ups, inspire and support you on your way in the best possible way.
The BMBF-funded measure "StartUpLab@FH", is intended to strengthen the establishment and operation of free research spaces. The goal is to create the necessary structures, to network actors internally and to strengthen entrepreneurial thinking and the founding of companies at universities of applied sciences.
Environmental Protection Group
The Studentische Umweltinitiative Hof e.V. is a registered association that deals with environmental issues. For this purpose, we start projects to draw attention to environmental problems or to curb them.
Our projects and undertakings are initiated by ourselves from beginning to end. We are therefore happy to receive opinions on already existing projects, as well as all those who want to participate when it comes to planning and implementation.
Interested? Contact us via sui[at]hof-university.de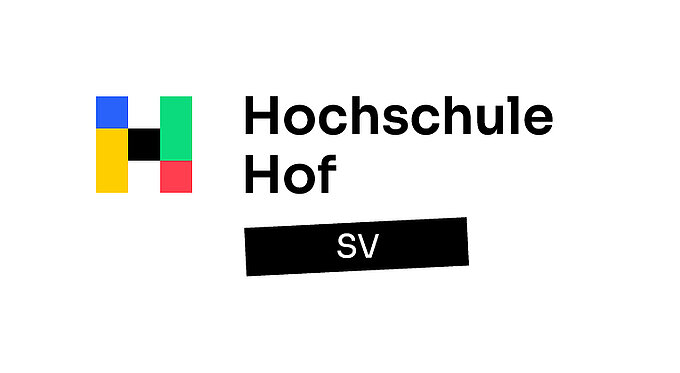 The Student Representation of Hof University is an initiative of the university, which is the link between the students and the university management. We organize various events for the students to make everyday life at the university more varied.
Do you have a question, a problem or would you like to get more involved in the university yourself? Contact: sv[at]hof-university.de .
You can also attend one of our public meetings at any time. We will inform you about the dates in advance by mail.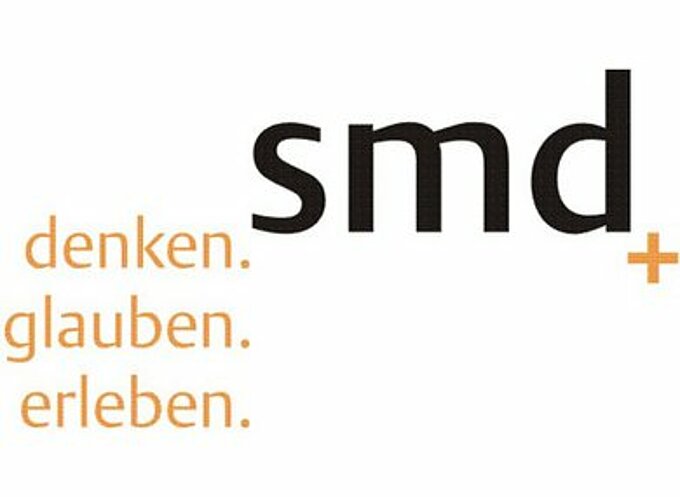 The SMD University Group is a non-denominational student initiative. During the semester, it organizes a program of theme nights, discussion groups, weekend retreats and also public actions.
SMD groups exist at numerous universities: they want to bring faith into conversation in the context of the university.
Cinema feeling in the Audimax of the iisys building: Every Wednesday during the semester, the student initiative Unikino Hof (Campus cinema) shows various films in room G023 - from thriller and drama to comedy and animated film.
Admission is possible from 19:10; at 19:30 we start the cinema program. We are looking forward to seeing you!
Contact: kino[at]hof-university.de
For licensing reasons, we would like to point out that our offer is aimed exclusively at students and university staff. Please have your campus card ready at the entrance.