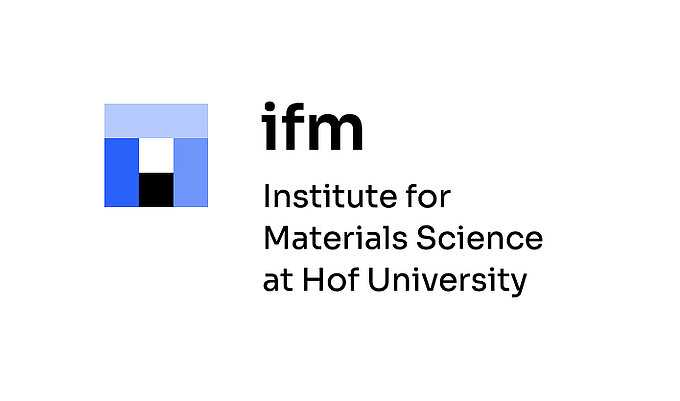 Institute for Materials Science (ifm)
The Institute for Materials Science (ifm) develops new products and manufacturing processes in the fields of mechanical engineering, system materials, textile technology and composite materials. Our institute is characterized by its high competence and technical equipment and is, among other things, the technology leader for the production of branched braids.
The ifm sees itself as a partner for application-oriented research and development projects in industry and commerce. Nationally and internationally we work with companies from the aerospace, automotive, construction and environmental industries. Projects range from processes for manufacturing space antennas to natural antibacterial coatings and braided medical stents. In its region, which is dominated by the textile industry, the ifm advances local companies by directly transferring the latest technologies into production.
Close customer relationships
What distinguishes the ifm are close and good partnerships with its customers. Their satisfaction is reflected, for example, in the number of follow-up projects. Our customers have high confidence in our competence and appreciate that we respond to their concerns quickly, flexibly and openly.
We support the networking of our partners and promote work in areas relevant to us by organizing appropriate events. One example is the Space Day on materials and textile technologies for space applications.
For whom do we conduct research?
Companies from the aerospace, automotive, construction and environmental technology industries.
Who are we?
Your partner for application-oriented research and development projects for industry and commerce
What do we offer?
development competences for highly innovative sustainable products and processes in the mentioned research areas
highly specialized research groups for our research areas
modern equipment in our laboratories - on more than 5500 sqm at the Hof and Münchberg campuses
solutions for more efficient processes and production of innovative products
advice on funding from national and international programs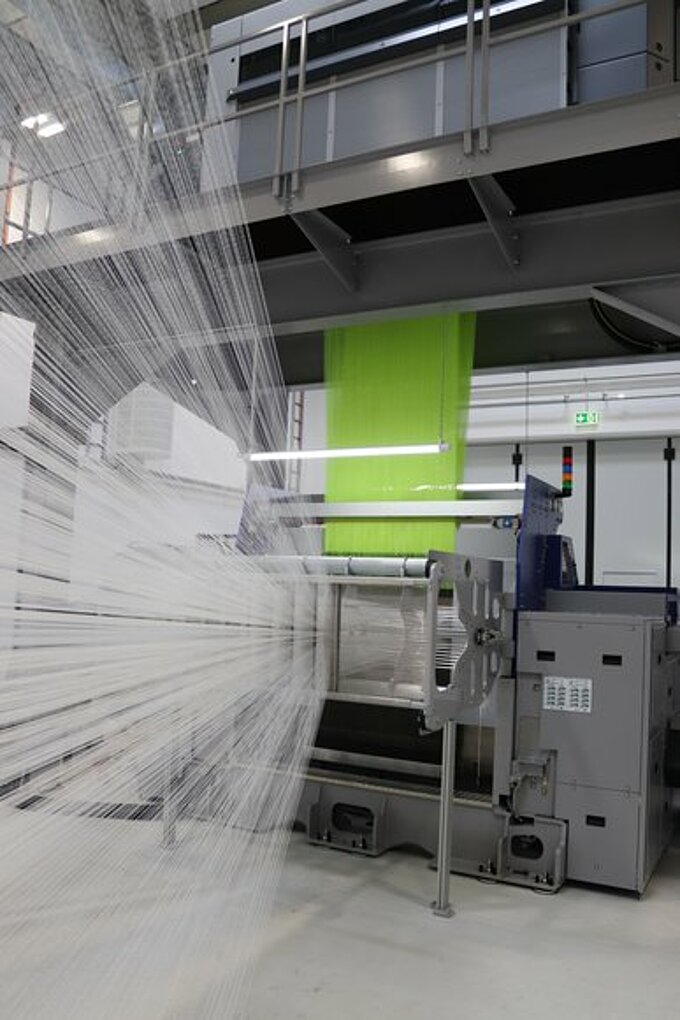 Our research area in Innovative Textiles has technical facilities and a high level of experience in the production and finishing of textile surfaces and preforms using a wide range of surface formation and finishing processes. One focus is on weaving and braiding technology.
Here, the ifm develops spacer fabrics, multilayer fabrics and 3D fabric structures for different application areas, such as composites, construction and aerospace, by means of double rapier weaving machines, among others. The plant is designed to process a wide range of high-performance fiber types; such as carbon, ceramic, glass and basalt. Here, each yarn or yarn group can be set according to the most suitable movement and realized with optimum stroke and required tension. A creel with tangentially extractable winding points allows a rotation-free feeding of the threads. This enables the realization of different types of fabric patterns, which are necessary for the weaving in of spacer and multilayer fabrics with different chamber geometries.
Other looms, also with Jacquard unit, are available in the catchment area of the working group. With regard to the production of braids, one is among the technology leaders for branched braids, due to many years of research in the field of variation braid technology. In recent years, the braiding technology sector has been and will be further expanded, e.g. through the acquisition of a radial braider for textile semi-finished products in the rope and profile sector.
We deal with nonwovens of various kinds, from basic trials with small quantities to industry-related manufacturing processes. Besides research projects, we also cooperate with different companies and industries to research new fibers, new methods, combination of different methods and many more.
Nonwovens Development Center (VEZ)
Production-related developments are the core task of our VEZ. Here, hydroentanglement and thermal hardening with process speeds of up to 100m/min are possible.
Inaugurated on 24.09.2020 by, among others, Bernd Sibler, MdL, Bavarian State Minister for Science and the Arts.
Nonwovens can be produced up to a width of 1,000 mm (before edge trim) at process speeds of up to 100 m/min.
A fully automated winding and cutting process enables continuous production.
The basis weights of the nonwoven to be produced - using all components of the line - can range between 15 and 80 g/m².
Up to 5 water jet bars can be used, with a maximum pressure of 135 bar each.
The Omega drum dryer can also be used for thermal bonding only, bypassing the water jet unit.
Prefabricated nonwovens can be fed to the water jet and/or thermal bonding unit, bypassing the carding unit.
The slitting system with circular knives integrated in the circumferential winder enables clean edge cutting and the production of up to five narrow rolls.
Basic laboratory nonwovens development
In the basic laboratory, we also offer developments with small fiber quantities from 10kg fiber quantity. Different bonding methods can be offered individually or in combination.
Fleece formation with crosslapper
Needling up to a basis weight of max. 1,200 g/m² at a fabric width of 0.5 m (strongly dependent on fiber titer and fiber material!)
Needling of several pre-bonded layers up to a basis weight of max. 2,000 g/m²
Production of thermally bonded nonwovens by means of a belt dryer (currently not in operation)
Production of thermally bonded nonwovens by means of a calender (currently not in operation)
Smoothing / embossing of nonwoven fabric by means of calender (currently not in operation)
Solvent-free coating by means of padding, knife doctor blade, scatter coater, IR drying and hot air drying (hot air drying currently not in operation)
Research and development in the field of knitting technology is performed in the knitting centre.
The diverse and complex technology for the production of technical knitted fabrics up to shaped knitted fabrics can be seen in operation on a total of over 20 modern flat knitting, circular knitting and warp knitting machines.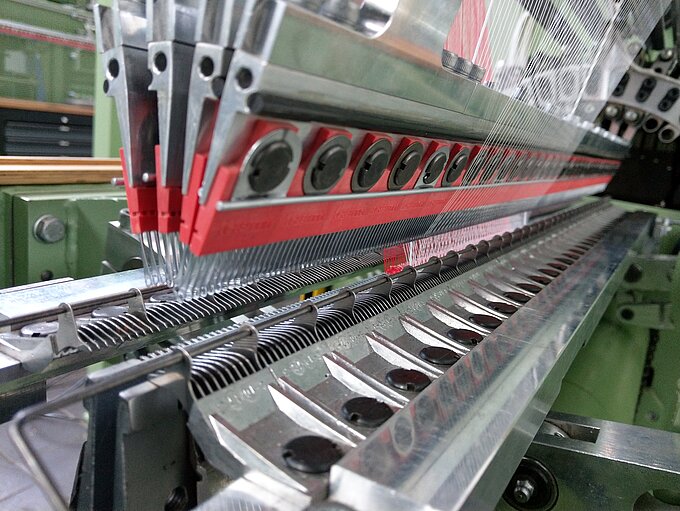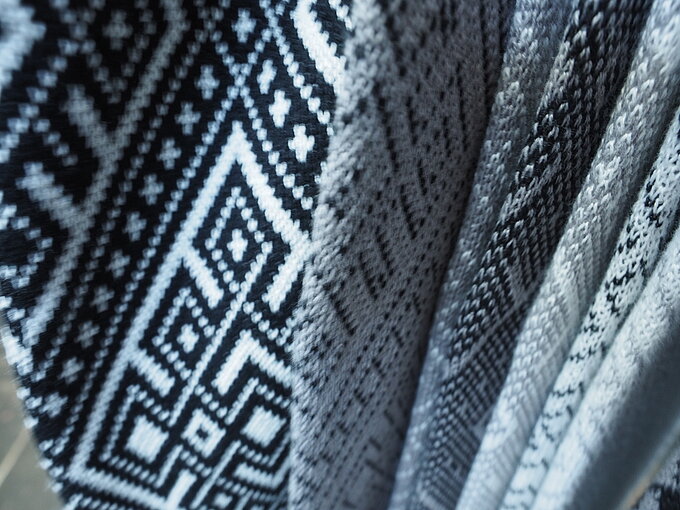 Surface Functionalization and Coating
The research area Surface Functionalization and Coating focuses on the pretreatment and coating of a wide variety of materials, especially by means of the PVD process. A wide variety of substrate materials can be coated, e.g. metals, plastics, ceramics, glass as well as - partly with restrictions - wood and textile products. In the case of the latter, both coatings of linear textile structures, such as fibers and ropes, and coatings of textile fabrics, such as woven fabrics and scrims, are possible after appropriate pretreatment.
As the demands placed on products become increasingly complex, materials alone are often no longer able to meet the required properties. Surfaces with specific parameters and properties, so-called "customized surfaces", are becoming increasingly important. PVD processes, as thin-film technology processes, allow very flexible process designs with many variation possibilities with regard to the composition of the layer and its properties. This makes it possible to generate coatings that allow a combination of different requirements and thus the development of multifunctional products.
Due to the wide range of coating materials and the addition of reaction gases, pure metals, alloys and metal compounds, such as metal oxides, nitrides and carbides, can be generated as coatings. The layer thicknesses are in the nano to micrometer range. Due to minimal material consumption and non-hazardous starting and residual materials, the PVD processes are very environmentally friendly. Another advantage of the processes is the low chemical and thermal influence on the substrates, so that even temperature-sensitive materials can be coated.
Hof University has several facilities for plasma treatment and PVD systems, with which different coating systems, such as multilayer systems and graded systems, with different chemical compositions are possible. Defined, homogeneous and reproducible functional layers can be realized. Various functions, such as electrical conductivity, antibacterial effect, wear resistance, friction reduction, optical and decorative effect, barrier effect, shielding of electromagnetic radiation as well as combinations of these can be achieved.
Innovative textile finishing and dyeing
The research area of innovative textile finishing and dyeing under Prof. Dr. Michael Rauch includes, among other things, research on the topic of UV-curable coatings. In particular, research is to be carried out into how the various parameters (type of lamp, layer thicknesses, use of different monomers or oligomers, etc.) affect the result and durability of UV coatings.
Fluorine-free alternatives for oleo- and hydrophobic finishes are being developed as part of a third-party funded project.
In the area of protective clothing, research is being conducted into dyeing, printing and finishing processes for flame-retardant high-performance fibers.
We are also able to offer project partners virtually any printing and dyeing technique, as well as various fastness tests (weathering, burning tests, fastness to use, etc.) and other tests (DSC, FTIR, etc.).
Injection molding and function-integrated components
The research group Injection molding and function-integrated components deals with research topics in the field of MIDs (molded interconnect devices) and other function-integrated components. The injection molding laboratory is equipped with five injection molding machines of various designs as well as injection molding preparation and characterization methods. A thermoforming machine is also part of the laboratory equipment. The application of functional structures is carried out using screen printing and digital printing processes.
The production of injection molds for teaching and research projects is done in-house. Furthermore, various generative processes are available for the creation of prototypes (rapid prototyping).
Findings in the field of printed foil electronics combined with in-mold labeling components were gained in a funded project completed in 2016. The project was funded by the Bavarian Ministry of Economic Affairs, Media, Energy and Technology with the funding code BAY 171/001.
A project is currently being worked on as part of the "Northern Bavaria Initiative" to develop an automotive center console in collaboration with a regional automotive supplier. In another project, the working group is conducting research within the funding line "Young Engineers - Cooperative Doctorate" as part of the "Research at Universities of Applied Sciences" program: In collaboration with the Nuremberg University of Applied Sciences Georg Simon Ohm and two industrial partners, the process limits of printed, assembled and formed foil circuit carriers are to be determined in order to reinforce them with plastics in a further production step.
Research projects in the field of injection molding
The project aims to develop an alternative process sequence for the manufacture of integrated mechatronic modules which, compared to the established variants of MID technology, offers the advantages of largely planar processing, greater functional integration thanks to the possibility of functionalization by printing, and potential for improving cost-effectiveness. The MecDruForm research project is funded by the German Federal Ministry of Education and Research (BMBF) under the funding code 03FH020IB6 and is embedded in the joint project "Ingenieur-Nachwuchs2016" in the "Research at Universities of Applied Sciences" program.
The partners are the Technical University of Nuremberg and the companies MSE and RF Plast.
The research project was successfully completed. A highly interesting demostrator was created in the process chain, in which an electrical foil assembly with LEDs and microprocessor was back-molded with a PC.
In this project, a capacitive control panel for a passenger car center console was developed together with Dr. Schneider Unternehmensgruppe, Kronach, and the iisys of Hof University (Prof. Dr.-Ing. V. Plenk). A particular challenge in plastics technology was to print a film in a flat state with conductive tracks (essentially capacitive touch sensors), to deep-draw this film into a rather complex shape and then to back-inject it in an injection molding tool. Other requirements included backlighting (black-panel look).
The Dr. Schneider Unternehmensgruppe handled the design of the overall concept and the injection molding technology. The results were presented to the public by Dr. Schneider during the IAA 2017, among other events.
The work of iisys solved the evaluation of the operator actions, the coupling to a visualization by means of an iPad. For this purpose, various circuits were developed as well as software on microcontrollers and the iPad.
The project was funded by the Free State of Bavaria in the context of the joint project "Car Infotainment and Man Machine Interface".
Integration of a carrier system with functional electronic components by means of sandwich construction in a decorative in-mold labeling component
Partner:
FAPS Chair of Manufacturing Automation and Production Systems at Friedrich-Alexander University Erlangen-Nuremberg
KH Foliotec, Sparneck
Midtronic, Wiesau
The project was funded by the Bavarian Ministry of Economic Affairs, Media, Energy and Technology under the microsystems technology program with the funding code BAY 171/001.
The research activities of the university concerned the characterization of conductor paths printed on foil with regard to deformation (deep-drawing) and back molding.
Marketing of innovative IoT business models
The Internet of Things (IoT) research group is working on adoption projects related to the Internet of Things (IoT), as well as one project each exploring positive and negative online engagement and the drivers of customer dissatisfaction among industrial customers. In the area of the Internet of Things, the research focuses on answering the following questions How can trust in technical systems be increased? What are the customer requirements for functionality, transparency, security and robustness? Initial findings from previous research suggest that it is not the previous buyer-customer relationship that is decisive, but rather the prior knowledge of customers in this area and about the requirements of the Internet of Things. In the area of critical infrastructure, a different set of conditions applies.