Our start-up ecosystem
A unique network for founders
Together with the Digital Start-up Center Einstein1 and an extensive regional and supra-regional network of established companies and successful founders, research institutions, sponsors and investors, Hof University offers students, researchers, people interested in founding companies and start-ups a unique ecosystem for turning ideas into innovations and innovations into start-ups.
Contact - We are here to support you!
Start-up consulting & coaching
From initial consultation to comprehensive coaching
Every business start-up begins with an idea and/or the desire for self-employment. Before and in the course of a start-up, many questions arise and sometimes a second or third opinion simply helps. We give you a hand. Our experienced team supports you free of charge in all phases of setting up a business - tailor-made and individual.
Your contact:
Prof. Dr. Michael Seidel
Professor for Entrepreneurship and Regional Management
Scientific Director Digital Business Incubator Einstein1
Alfons-Goppel-Platz 1
95028 Hof
+49 (0)9281 409 /4250
michael.seidel(at)hof-university.de
Your contact:
Dr. Nicholas Derra
Deputy Managing Director Digital Business Incubator Einstein1
Albert-Einstein-Strasse 1
95028 Hof
+49 (0)9281 595 310
info(at)einstein1.net
Coworking, startup offices & conference rooms
Work creatively - in the best company
The Center for digital startup businesses Einstein1 on the campus of Hof University is without a doubt one of the most innovative buildings in Upper Franconia. State-of-the-art architecture, technical equipment that leaves nothing to be desired, stylish furnishings and, last but not least, inspiring people, provide the right environment to give free rein to your own ideas.
At Einstein1, you can expect a spacious and open event area for up to 150 people, a perfectly equipped coworking space with 30 seats, exclusive startup offices, modern meeting and conference rooms for your event and probably the most spectacular roof terrace in Hof.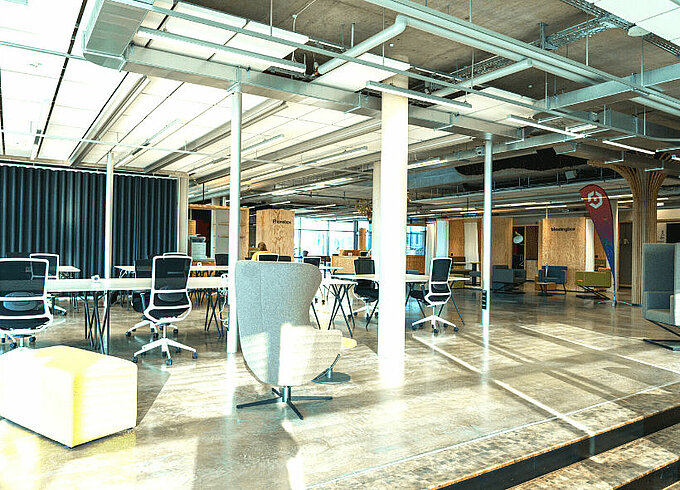 The Makerspace in the C-building of Hof University is a professional high-tech workshop with machines, tools and software. The workshop is a place to go for tinkerers and hobbyists - perfect for realizing technical ideas, making and testing prototypes and small series.
Your contact:
René Göhring
Technical Assistant Makerspace
Alfons-Goppel-Platz 1
95028 Hof
+49 (0) 9281 / 409 4681
rene.goehring(at)hof-university.de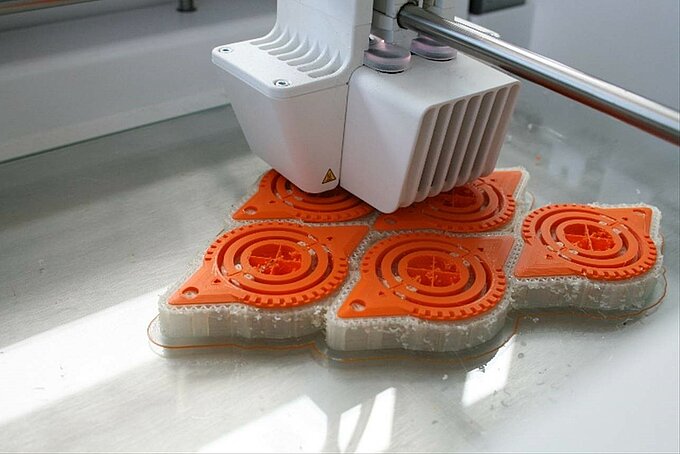 Opening Hours:
The Makerspace is located in the front area of the Machine Hall (Building C) and is open Monday through Friday from 9:00 am to 4:00 pm or upon request. A prior arrangement with René Göhring is recommended.
On Tuesdays and Thursdays the opening hours are extended. Our doors are then open until 20.00 o'clock.
Safety briefing:
Your safety is of top priority in the Makerspace. Therefore, a safety briefing is mandatory for access. The safety briefing is available online on moodle.
Events and excursions
Over the edge and even further
We regularly organize excursions to learn from others, exchange ideas and broaden our horizons. We visit exciting startups and established companies, congresses, trade fairs or other interesting events in the startup context, which will bring you and us further. Let us inspire you and look beyond the end of your nose with us.
Events at Einstein1:
Networking events take place at Einstein1 at least once a week. We bring interesting people to Hof who have a story to tell. Specialists give talks and insights on topics such as digitization, start-ups or online marketing. Experienced founders regularly share their stories - from great successes to crashing failures. Listen and learn!
For upcoming events, please check the event calendar.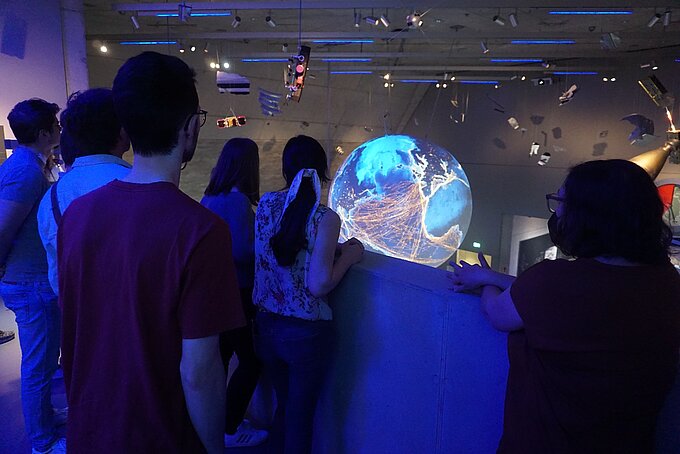 Hof University promotes inventive and entrepreneurial spirit and supports students and researchers in the acquisition of funding and growth capital.
With KICKSTART, the university has its own funding program that supports the development of ideas and prototypes.
The EXIST-Gründerstipendium or FLÜGGE are possible follow-up funding programs, for which we provide advice on how to apply. For startups in the growth phase, we have access to a wide network of capital providers.
The Bavarian validation program is aimed specifically at researchers and supports projects for researching and developing technological innovations, novel production processes and knowledge-based services.
Individual funding programs in brief
Entrepreneurship education
We are convinced that entrepreneurial thinking and action are becoming increasingly important for our society. That is why Hof University has included the topics of entrepreneurship and entrepreneurship in its mission statement. Entrepreneurial personality traits such as performance motivation, acceptance of responsibility, creativity and commitment are key qualifications today - regardless of whether one is self-employed as an entrepreneur or works as a manager in a company. The teaching of these values and contents enjoys a very high priority in the study programs offered at Hof University.
Teaching opportunities in the start-up context:
For founders, basic knowledge in many areas of business administration as well as their interrelationships are indispensable. Especially in startups, many knowledge and skills have to be combined in a few people. In the course of your studies, you will deal with the following topics, among others:
Basic business management knowledge
Startup management (including entrepreneurial personality, financing of startups and practical knowledge)
Marketing for startups and e-commerce
Tax and business law
Creativity techniques and innovation management
Business model development and business plan creation in cooperation with the digital startup center Einstein1
After studying business administration with a focus on entrepreneurship and tech startups ...
you know what is essential for the foundation of a new company.
you will be able to develop new business ideas for existing companies.
you are able to competently accompany a startup process.
you can also help shape new business models in larger companies.
you are optimally prepared for the challenges in business.
a wide range of career opportunities are open to you in your own company, in consulting or in management.
Five days, four teams, one common goal
Ideationweek is a teaching event (block event) that is comparable to a hackathon. The goal is to develop new and innovative ideas, products or services based on a real task from a partner company within just five days. We use design thinking as a method. The participants work in interdisciplinary teams of up to six people and are accompanied by experienced coaches and experts from the company. Ideationweek is offered across all faculties for all students at Hof University of Applied Sciences.
Target Group / Objectives:
The Ideationweek is held across all faculties in German (individual impulse contributions may be held in English). The aim of the Ideationweek is to teach the participants the Design Thinking method and its individual process steps based on a concrete example from practice and to develop innovative solutions. After the course, participants will be able to identify relevant target groups, understand their needs, develop creative ideas and solutions based on these, as well as produce initial prototypes and test them immediately.
Examination Credit / ECTS:
Up to 6 ECTS can be awarded depending on the respective course of study (see FAQ). Please clarify in advance with the course director. Previous knowledge is not mandatory. However, it is recommended to have completed at least 60 ECTS in the Bachelor's program. There are no restrictions for Master students.
Depending on the number of ECTS awarded, the examination includes compulsory participation in the Ideation Week (5 days), a final presentation (for 3 ECTS) and a seminar paper (project documentation, for 5/6 ECTS).
for 3 ECTS: obligatory participation in the Ideationweek (5 days) and final presentation
for 5/6 ECTS: as above + term paper / project documentation (for 6 ECTS with additional scientific part in term paper/documentation)
Application / Enrollment:
The number of participants is limited. A short online application is required for participation. Please use the online form exclusively for the application. You will receive feedback as to whether you will be admitted to the course within a few days of submitting your application. Self-registration in Moodle is not possible. The registration is done by the organizers. You can find the link to the application form here: ATTENTION: the next Ideationweek will take place in summer semester 2023.
Your contact person:
Jörg Raithel
Project Coordinator Startuplab
Alfons-Goppel-Platz 1
95028 Hof
+49 (0) 9281 / 409 4682
joerg.raithel.2(at)hof-university.de
The course Start-up Management contains important building blocks for a successful start-up. We look at conditioning factors for entrepreneurial ecosystems on a global, national and regional level and form an opinion on startup culture. We discuss the economic importance of startups, derive different roles of entrepreneurs from theory, and explain the emergence of entrepreneurial opportunities. In particular, we will delve into the entrepreneurial personality and the success factors of teams as well as forms of financing. We will focus on start-up specific financing with private equity such as venture capital, crowdinvesting or angel financing. For the most important topics of the course, we invite competent guest authors and let the events of the Einstein1 enrich us.
Parallel to the theory, you will immediately apply your knowledge by working on your own (small) business cases in groups. As a tool we work here with the Business Model Canvas by Alex Osterwalder. You are free to also work on ideas from external people or your friends in the course. If promising projects emerge, this course will be the ideal interface to the module "Developing and Designing Business Models" (winter semester), where these can then be further developed into your own company with full force.
Your contact person:
Prof. Dr. Michael Seidel
Professor of Entrepreneurship and Regional Management
Scientific Director Digital Start-up Center Einstein1
Alfons-Goppel-Platz 1
95028 Hof
+49 (0)9281 409 /4250
michael.seidel(at)hof-university.de
This course builds systematically on "Start-up Management". Business models map the logical relationships with which a company generates revenue. Especially for startups, a good business model design is important to convince customers, investors and other stakeholders. In the course, you will learn important tools to develop innovative business models and to design them in a revenue-oriented way. At the same time, you will apply this knowledge directly by developing a concrete business idea in interdisciplinary teams parallel to the course and pitching it to a group of experts on a demo day at the end of the course. You will be coached by the expert network of the digital start-up center Einstein1. Whether you later start up or not, the learnings of this course are equally valuable for entrepreneurs and intrapreneurs.
Your contact:
Prof. Dr. Michael Seidel
Professor for Entrepreneurship and Regional Management
Scientific Director Digital Business Incubator Einstein1
Alfons-Goppel-Platz 1
95028 Hof
+49 (0)9281 409 /4250
michael.seidel(at)hof-university.de
The entrepreneur simulation game TOPSIM - Startup simulates the start-up of a business using the example of a fitness studio. Here, the typical phases of a business startup are depicted:
Idea generation and development of a business model
Creation of a business plan
Negotiation with investors about financing
Management of the company after market entry.

With tools such as the Business Plan Assistant, participants are supported in the start-up process and must ultimately succeed with their company on the market. Here, it is necessary to react to market movements and still remain true to one's own strategy. The business game imparts basic knowledge of business management and serves as an introduction to the start-up topic even for participants without prior commercial knowledge.
Contents:
Methods for developing business ideas and business models
Market analysis
Structure of a business plan
Raising capital (loans, equity capital)
Personnel planning and capacity utilization
Basics of business valuation
Basics of investment appraisal
Basics of internal and external accounting

Application:
Foundation focus in the study program BW and BW dual
Business management seminar in the study program BW and BW dual

Your contact person:
Prof. Dr. Heinz Göhring
Professor of Economics / Business Administration
Alfons-Goppel-Platz 1
95028 Hof
+49 (0)9281 409 /4180
heinz.goehring(at)hof-university.de
Further information will follow.
Startup Academy: Workshops & seminars
In addition to the regular courses, we regularly offer seminars and workshops on startup-related topics. Design thinking, OKR, business planning, prototyping, user testing, innovation bootcamps - our offer is as colorful as the world. One focus of our events is on agile methods for idea development, such as design thinking. In addition to our own events, we forge collaborations with partners to bring current topics and trends to Hof University. In these events, you can expand your entrepreneurial knowledge. In most cases, these offers are free of charge for members of Hof University. Let us inspire you.
Co-Founder search
Talent wins games, but teamwork wins championships
You would like to found a startup, have already founded one and are still looking for reinforcement for your project? Or do you have a good idea that has potential and you are still looking for a sparring partner? We help you find team members and search the talent pool in and outside our university for like-minded people for your project.
Your contact person:
Jörg Raithel
Project Coordinator Startuplab
Alfons-Goppel-Platz 1
95028 Hof
+49 (0) 9281 / 409 4682
joerg.raithel.2(at)hof-university.de