Industry 4.0: Practical insights at Hof University
Prof. Dr. Heike Markus, Program Head, explains the latest addition to our machine hall and its practical use for our students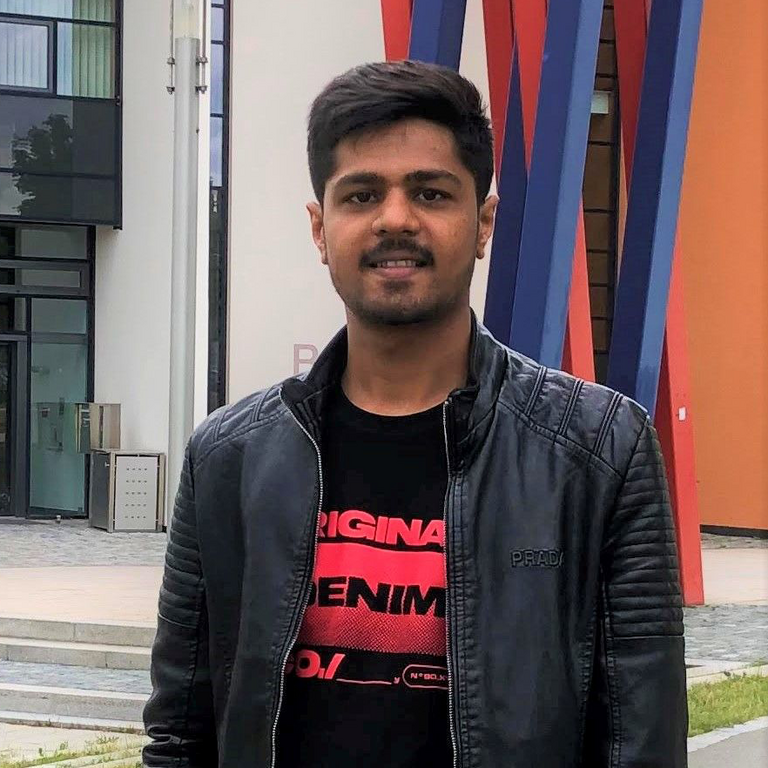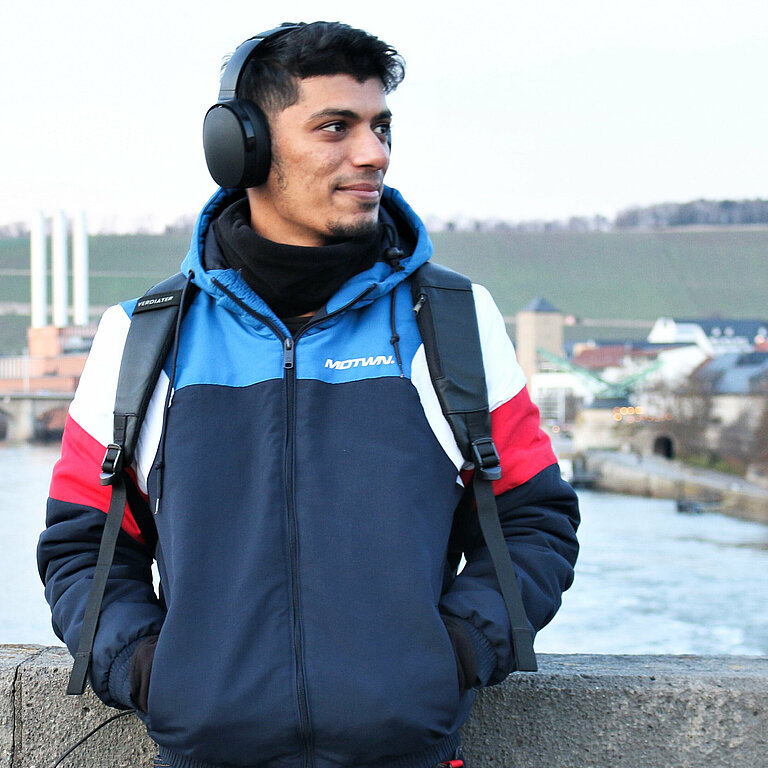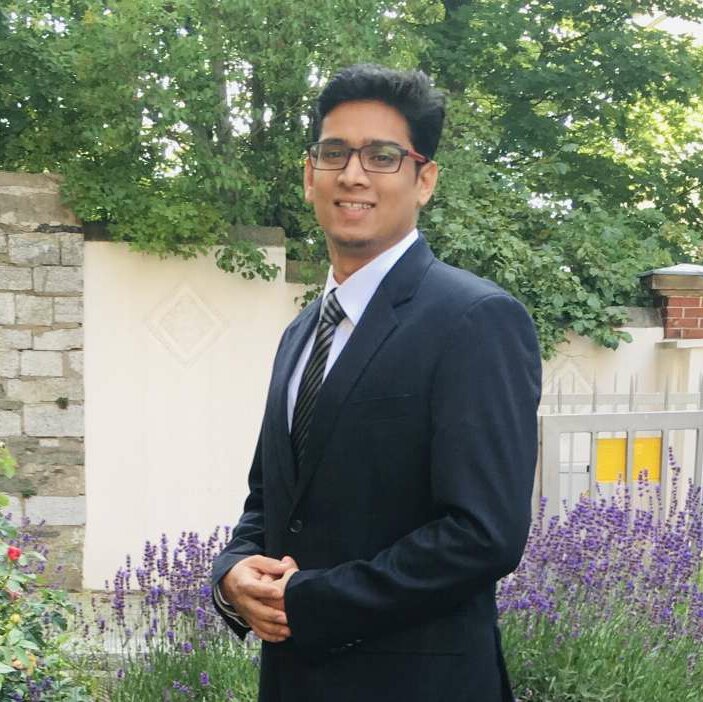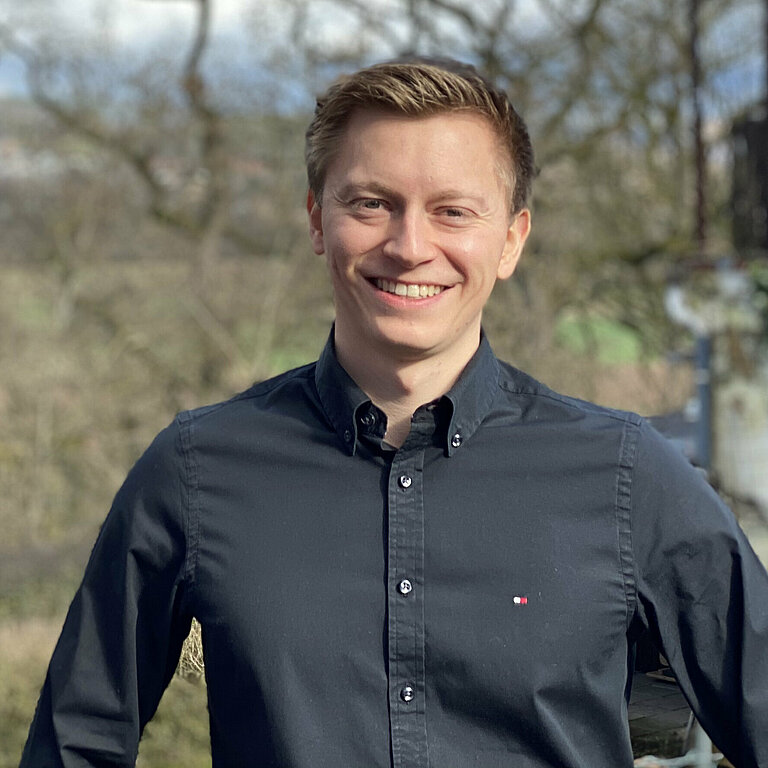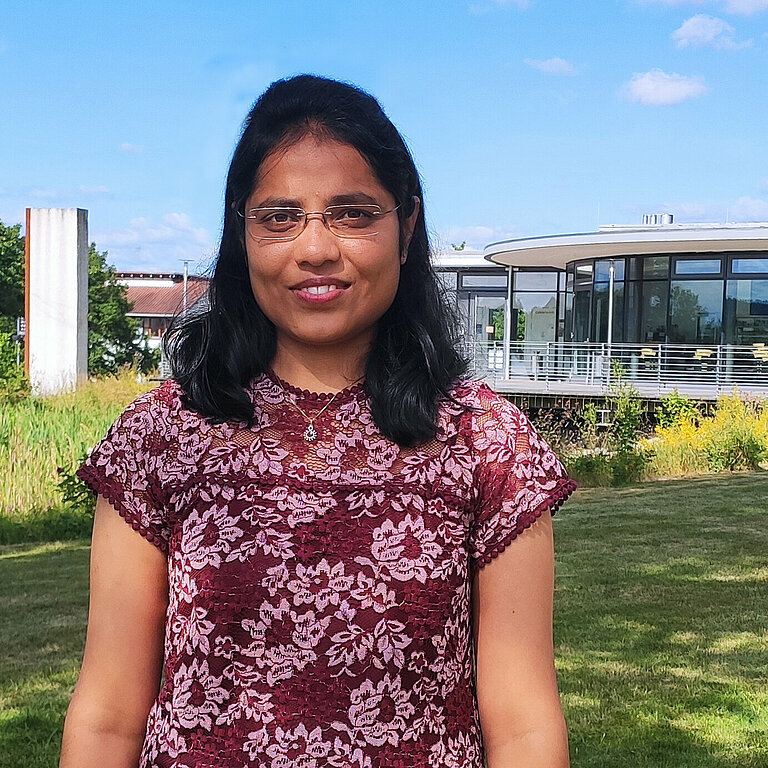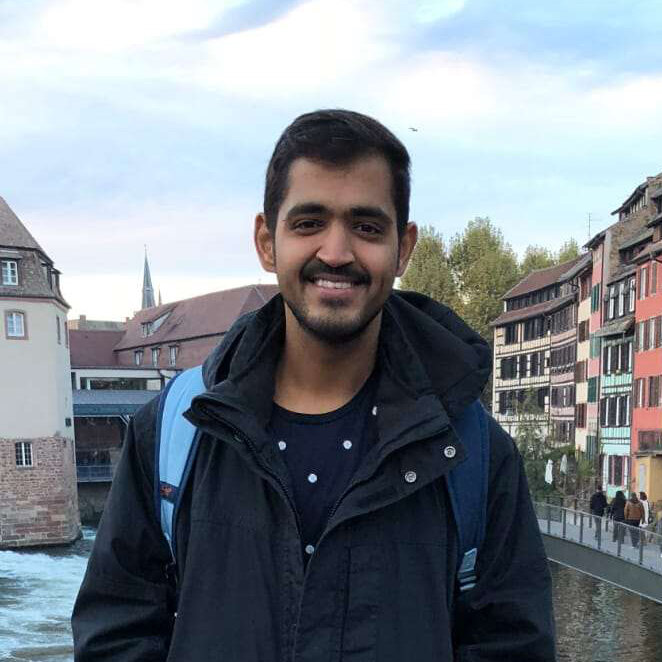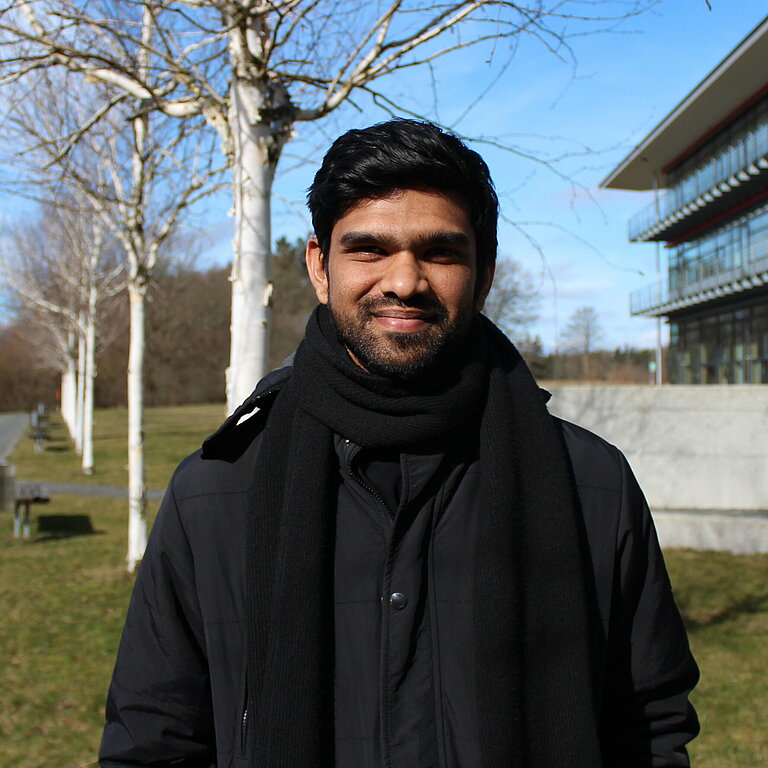 Olga from Russia
"I have known Hof University for its practical and interdisciplinary approach to studies. I have always been passionate about studying interconnections and integrations of evolving and conventional business processes, and wanted to continue my professional growth in the area of innovation management. So, when I heard about this MBA program, I instantly knew that it was the perfect match for me.
Digitalization and Innovation offers its students a great variety of relevant topics together with a solid theoretical base. The Master's program helps the students develop an expertise in leadership topics, strategic development and project management.
In the previous semester, I participated in the course Ideation Techniques and Digital Innovation, in which we learnt about various designing thinking tools. The course has greatly enhanced my outlook and approaches to creating and innovating. Concepts learned during this course have already firmly established themselves in my professional toolbox.
Overall, I would recommend the Master in Digitalization and Innovation for anyone who is looking for integrated business administration studies, best teaching methods, and deep industry insights, coupled with the well-known German excellence."
Keval from India
"Studying the Master of Operational Excellence program is an incredible learning experience with a practical approach that will help you broaden your knowledge related to business administration and engineering management. You also gain new skills and develop expertise to take advantage of new opportunities for your professional career.

I am also really happy with the extraordinary professors for sharing their experiences and valuable knowledge. Along with that, the German language lessons were very beneficial in terms of improving my language skills and making it easier to find internships. Also, all departments of the university are very active and supportive in answering your queries.

Hof is a wonderful town located on the northeastern corner of the state of Bavaria. It has beautiful gardens and forests, a zoo, a lake, etc. for wandering and spending your best time with your friends. You will meet amazing people from all over the world here and you will make lifelong friends, enjoy your student life and build wonderful memories."
Mandar from India
"The educational experience at Hof University is one of the best I've had. The M.B.A. General Management offers a perfect balance of learning and self-development. This course not only develops the skills and knowledge regarding the course modules but also helps to open up your mind to the subtleties of a changing world, developing economies and upcoming trends. The most important aspect for me was the critical discussions during the lectures along with the professors and colleagues.

I have always focused my career towards the Automotive Market, coming from a technical background with a work experience of almost 3 years in Business Development. Currently I am pursuing my internship at Allianz in Munich, setting up insurances and developing strategies for the upcoming trends in EVs.

I would highly recommend this course to those with a good prior work experience who are looking forward to be the pioneers in this changing world."
Nikunj from India
"The Master program Operational Excellence is strategically designed to enable you for a successful career. The theoretical knowledge gained at the university can be applied practically in industry during the internship and Master Thesis. This practical experience allowed me to expand my professional and social skills. The course also offers you to learn German language thoroughly, giving you an edge in the German job markets.

I highly recommend this program at Hof University to my peers."
Florian from Germany
"What I like most about my master's program is the internationality.

The high intercultural diversity of all students as well as their practical experience in different occupational areas encourages the students to be open-minded and interested in various topics. Thus, especially group works and discussions are very productive and interesting. Together with the support of highly skilled and practical oriented professors a really efficient studying atmosphere is formed.

An additional advantage for me as a non-native English-speaker is that you can constantly prove and improve your language skills in different subject-specific areas."
Kavya from India
"I always wanted to pursue higher studies. Therefore, the Master's program in Software Engineering for Industrial Applications caught my attention. However, being a skilled professional with eight years of IT work experience, an introvert and a married female, I was a bit hesitant about my decision of doing masters in Hof University and also about my future in Germany.

I can now confidently say that choosing this course is one of the best choices in my life, as I had to challenge myself to learn new lessons every day from my highly skilled and knowledgeable professors, who not only inspired and motivated me to work hard on learning new technologies and enhancing my coding skills but also doing research. All those efforts allowed me to study, practice and learn more.

After reaching Hof, the Housing Office and International team have guided me thoroughly. Right from the smooth check-in to my room to fixing up appointments for opening bank account, city registration and visa extension etc., I never had to miss my classes for completing these formalities and they were always readily willing to extend their support throughout my stay in Hof.

Intercultural training programs, Job fairs, CV writing presentations and workshops organised by our Career Services team guided me in assessing myself and to prepare to compete in the German Job market.

I felt very glad when I received the scholarship for my academic performance in the winter semester. It made me realise that Germans recognise hard work and merit rather than your race, gender and age. I am positive that every student's future is safe with Hof."
Akash from India
"For someone like me, desiring for a practical oriented Master, Hof University proved to be a perfect place for pursuing my Master studies in Germany. The curriculum is designed by the professors having several years of professional experiences in their respective fields. Therefore, the students are prepared according to the current and future industry demands. The University has a very modern infrastructure with a 24 hours accessible library and computers, Wi-Fi, canteen and sport facilities. During my initial days the University helped me with finding an accommodation, completing the necessary government formalities and settling in Hof. Throughout the year, the Student Union organizes several fun and engaging events, thereby creating an overall intercultural atmosphere."
Shantall from Bolivia
"The Master's program Operational Excellence offers a great platform to connect with international students from different engineering backgrounds, thus making it an amazing course to exchange ideas and open the horizon. The practice-oriented approach opens the gate to the German industry landscape, and it is worthwhile to watch out for the numerous family-owned hidden champions.

As the students are coming from all around the world it is an experience to grow not solely on an academic but as well on a personal level and make friends for life. The city of Hof features a lot of outside activities to enjoy the weekends like swimming at the lake Untreusee, canoeing at the river Saale or hiking in the Fichtelgebirge. And of course, there is always a spare time for Bavarian Brotzeit."
Khen Brian from Ghana
"What I loved most about studying Master's in Software Engineering at Hof University was the excellent range of attractive, and practice-oriented study options as well as the outstanding teaching and research curriculum. Deciding to pursue my degree at Hof University was an extremely fulfilling experience which in turn deepen my professional and social skills. The well-structured program readily set me up for the job market and I was hired immediately after the completion of my degree.

Moreover, studying at Hof University exposed me to individuals from around the world; since it is a multicultural university with diverse groups of people from different social backgrounds. Working with students from all over the world as well as members of faculty also granted me a global perspective to addressing both social and technical problems. Additionally, the mandatory German modules have made it simple to be well integrated into the German culture and society at large as well equipped me to enhance my German skills. I would absolutely recommend Hof University to everyone looking forward to the unique opportunity to combine their studies with first-hand experience life in a German speaking country. It was an ultimate delight studying and living in Hof!"
Yash from India
"Studying Masters in Software Engineering at Hof University has been a memorable experience for me. The curriculum offers a wide range of modules that covers topics from different areas of software engineering. One year of mandatory internship allowed me to get more practical insight on TYPO3 CMS which was one of the modules in the course and after finishing my internship, I was offered a job in that field. Additionally, compulsory German modules have helped me improve my German skills which makes it easier to get settled in Germany. Apart from the studies, I attended many social events organised by the University which gave me the opportunity to connect with other students."
FAQs for Graduate School programs
The following FAQ list is only relevant for students starting in summer semester 2024 in the following study programs:
Digitalization and Innovation (M.B.A.),
Operational Excellence (M.B.A. and Eng.),
General Management (M.B.A)
Software Engineering for Industrial Applications (M.Eng.)
(as of October 24, 2023)
For further questions relevant for international students (such as accommodation, health insurance, etc.), please also see our FAQs for degree-seeking students.
Our Graduate School offers great value for moderate tuition. Programs for students with work experience are at a higher level than those open to applicants without experience. The level of instruction and class discussion is more detailed and applied. The degrees of these programs (e.g. MBA, MBA and Eng.) can only be obtained by those with professional experience. They have a higher reputation in the industry compared to other master's degrees. Salaries are significantly higher upon graduation. The tuition fees of our Graduate School are very competitive, compare for example the fees of our programs with others in Germany, the UK or the U.S. You get good value for money.
Besides the reputation, there are many other reasons why you should join the Graduate School:
Graduate School programs have 12 modules instead of 10 modules in the other programs.
German language is already included as a mandatory part of the program. You will receive intensive German language training, which is the ultimate door opener for good job offers in Germany.
Graduate School programs include 120 ECTS (not only 90 ECTS), there is no need to do 30 ECTS in addition to fulfill the requirement of 300 ECTS to receive the Master's degree.
The programs have a (paid) internship of one year (not only six months as in other programs). Again, this raises your job prospects to another level.
An intercultural training is included in our programs, which makes the start in Germany easier.
Not sure yet? Have a look at the other extras you get when studying at our Graduate School:
Intensive and exclusive treatment from our Graduate School team, hired specifically for our Graduate School students.
Professors and highly experienced industry lecturers are hand-picked.
We also have exclusive teaching methods such as our practical insight into Industry 4.0 based on a simulated production line connected to SAP.
10% of the best students in semester 1 will receive a scholarship in semester 2.
During the internship, the Graduate School offers a memorable excursion (like a cruise).
The application period for summer semester is from November 5 to November 30, 2023. Please note, in case all necessary documents (despite APS certificate, if necessary) have been submitted until November 30, 2023, you are allowed to submit the missing German certificate until December 15, 2024!
The application period for winter semester is from November 5 to November 30, 2023. Please note, in case all other necessary documents have been submitted until November 30, you are allowed to submit the APS application form until December 15, 2023. In this case, you are allowed to submit the APS certificate until January 31, 2024. After all the necessary documents have been submitted, the Examination Board will inform about admission or rejection as soon as possible.
Hof University is no distance-learning university. Our teaching concept is built on close personal interaction in an on-campus environment. Immediate exposure with the German study and work environment is one of the most important success factors of our programs.
Nevertheless, we are aware of the special situation of our international students regarding their visa issues. Therefore, Hof University has decided to offer hybrid teaching during the summer semester 2024 only for our first semester students.
Second semester students are expected to study on campus.
Please be aware that this rule applies only to students with visa problems!
There is no specific arrival deadline. Despite that, you are expected to be physically present at Hof University as soon as your visa status allows you to travel to Germany. Therefore, Hof University cannot issue any extension letters for late arrival.
Should you have to cancel the room, because you do not get the visa or due to any other private-, health- , pandemic- or study issues, you have to cancel your reservation immediately.
After your cancellation the Housing Office starts to find a new tenant for your room. Should we not be able to find anyone, because your cancellation came too late, you will have to come up for the rental costs worst case until the end of the semester.
First of all, you should apply for an APS certificate as soon as possible, as it is necessary for the admission at Hof University and for your visa application.
Due to the strained situation at the Embassies and Consulates, we strongly advise you to go ahead with your visa application as early as possible to join our on-campus lectures.
It is necessary to submit an IELTS test (6.5 or above) or TOEFL test (90 or above) for your visa application and your admission at Hof University. Medium of instruction certificates are no longer accepted as a proof of English language proficiency for admission at Hof University.
Exams for first semester students, who can't be in Hof because of visa issues, will take place online. As second semester students are expected to be in Hof, their exams will take place on campus.
Your admission cannot be saved for winter semester 2024/25 or any of the following semesters. In case you want to start later, you will have to apply again via Primuss portal during the official application period (application deadlines and requirements).
The Examination Board reviews all incoming applications based on the current criteria for each semester. Be aware that the requirements might change and inform yourself regularly on our homepage.
Admissions for the following semester(s) cannot be guaranteed.
Yes, we recommend starting your studies this summer semester as we are offering hybrid classes and you can easily apply for a visa and join us on campus as soon as you have received it.
The payment deadline is mentioned in your admission letter (January 15, 2024).
If we have no record of your payment on this date, you need to show a confirmation from your bank/loan sponsor confirming that and when the payment will be made (latest February 15, 2024). Without recording your payment or receiving the confirmation on time, payments cannot be accepted as completed for the summer semester 2024.
If you have paid your tuition fee but have not yet received any student credentials, or participated in any event of the Orientation Week online or on-campus (e.g. Academic Writing or Intercultural Training) a partial refund is possible until February 24, 2024. You will get back the tuition fee minus an administration fee of 500 € and any bank charges incurred.
As soon as you have received your student credentials for participating in any lectures (online or on campus) no refund is possible. Moreover, if you have attended any event of the orientation week (e.g. Intercultural Training or Academic Writing), no refund will be possible.
We are a public University; therefore, the fees of our Graduate School are calculated on our ongoing costs. In contrast to many other universities worldwide our fees are quite moderate. Thus, we do not offer complete scholarships as we do not have any side income.
However, we provide partial scholarships. After completing the first semester, overachieving students may apply for partial scholarships, which are financed by companies, institutions like the DAAD, or the government. Besides, we implemented an additional special scholarship program for students of our Graduate School with outstanding academic performance during the first semester at our university. These partial scholarships are financed directly by the Graduate School and our supporting association.
Only valid for students of Hof University Graduate School starting WS22/23 or later.
Program

Tuition fees*

[DI, GMG, OEX, SE: semester 1-4]

Tuition fees for

extension semesters*

Cancellation fees*
Per semester
Total program
For every additional semester

Cancellation after admission

(before start of the first semester)**

Digitalization and Innovation (M.B.A.)

3,300 €

13,200 €

500 €

500 €

General Management (M.B.A.)

3,300 €

13,200 €

500 €

500 €

Operational Excellence (M.B.A. and Eng.)

3,300 €

13,200 €

500 €

500 €

Software Engineering for Industrial Applications (M.Eng.)

3,300 €

13,200 €

500 €

500 €
*Fees have to be paid per semester. It is not possible to pay the tuition fees in installments or to pay the tuition fees for the whole program in one payment.
The amount per semester consists of the tuition fee (see above) and the administrative fee (currently 124,10 EUR).
Students starting their studies before WS22/23 (OEX, GMG, SE, DI) pay 3.150 EUR tuition fees plus the administrative fee (currently 124,10 EUR).
**After having received the student credentials, refund is no longer possible. Please check our FAQs.
[Fee structure of Graduate School as of March 2022]
Studying at Hof University Graduate School
Meet our international students Hugo (from Mexico), Eduardo (from Honduras) & Julio (from Mexico) and find out about their experiences with the study programs Operational Excellence (M.B.A. and Eng.) and General Management (M.B.A.) at Hof University.
You are already enrolled in this program and have a question?