Life at the top of Bavaria
Nature, culture, sports and short distances
Hof is a medium-sized town located at the top of Bavaria and in the heart of Europe, right in the middle of Berlin, Munich, and Prague. The city has a population of about 50,000 and is an appealing and safe university town with plenty of leisure activities.
The well-known International Hof Film Festival, the Hof Theater and the Hof Symphony Orchestra with its music school are some of the cultural flagships of the city of Hof. With the cultural center "Alte Filzfabrik", the IN.DIE.musik festival and an active pub culture, the region's young music scene has also recently experienced a remarkable upswing. The new sports and leisure center "Am Eisteich" in the direct vicinity of the university or the well-known Freiheitshalle in Hof also offer many opportunities for a balance to studies.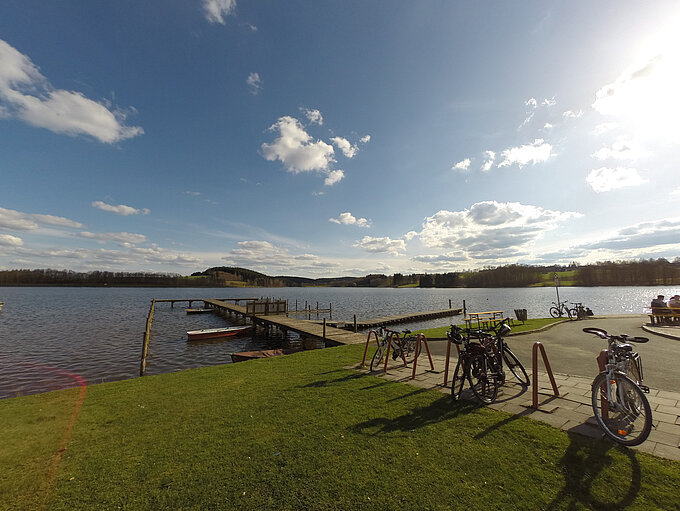 The city of Hof is surrounded by beautiful nature. It is located between the low mountain regions of the Fichtelgebirge and the Franconian Forest on the banks of the Saale River. You will find excellent possibilities for all outdoor sporting activities such as cycling, hiking, climbing, and skiing.
Probably the most popular place in the region is the lake Untreusee, which regularly appears in the list of the most beautiful German swimming lakes. From 1976 to 1979, the reservoir was built as a leisure and recreation facility. Its quite special name comes from the Untreubach, which feeds it. The two-kilometer-long and 700-meter-wide lake has an area of about 600,000 square meters. Almost all sports, except motor boating, are allowed on the Untreusee. Once a year, always in June, a dragon boat regatta worth seeing also takes place here.
The summer months in particular are defined by many festivals in the region of Hof, two of which stand out in particular: Schlappentag, which has now been recognized as an intangible cultural heritage due to its tradition as the oldest German craftsmen's and marksmen's festival (since 1432), and of course the Hofer Volksfest, which takes place for ten days from the end of July. But also the weekly InnenHofKonzerte (inner courtyard concerts) at changing locations in the city are a popular meeting place.
A visit to the Hof Wärschtlamo, the symbolic figure of Hof, is a must. This is a very special sausage seller who has only been around in downtown Hof for more than 150 years. You can recognize him by his brass kettle, which he heats with coal and from which he sells his tasty scalded sausages.
In our university magazine "Campuls-digital", we have also compiled many more leisure tips and recommendations for excursions.