I2P2 enables international encounters - both virtual and physical - within the framework of studies and independent of longer stays abroad. Within the framework of the I2P2 modules, foreign language skills, the ability to work in a team and intercultural competencies are promoted. The integration of real case studies and projects with international companies guarantees a strong link between teaching and practice and thus improves the students' job opportunities. Thanks to the possibility of voluntary short-term mobilities and virtual participation in I2P2, students can also gain international experience who would otherwise not have the opportunity to spend time abroad.
I2P2 Measures
► Global Networked Learning
This is the virtual exchange and cooperation between HAW Hof and its international partner universities. Students work virtually in international teams on a common problem. The digital communication can take place simultaneously or with a time delay. The modules include project work, seminars, role plays, visits to companies, discussions on current business topics and more.
► Short-term mobility
Short-term mobilities complement virtual collaboration with real encounters. Excursions make it possible for students to travel to partner universities abroad and/or for international students to come to Hof.
► Scholarships for short term mobility
Students who participate in a short-term mobility within a I2P2 module can receive scholarships for travel and accommodation expenses.
I2P2 Goals
► Innovative, interdisciplinary and collaborative modules are developed
► Inclusive mobility formats for students are provided
► New methods for blended learning and teaching are developed and tested
► International university partnerships are deepened
► Opportunities for students in the job market are improved
As a student of Hof University for you will be rewarded with 5 ECTS for successful participation in any I2P2 module.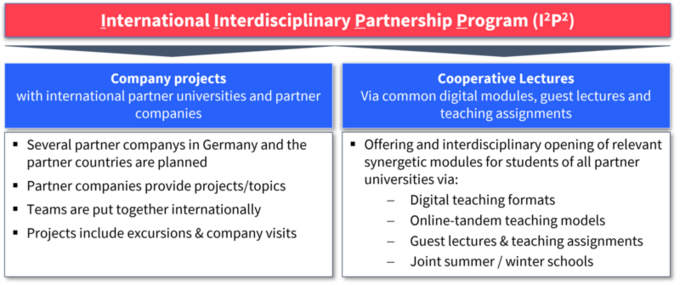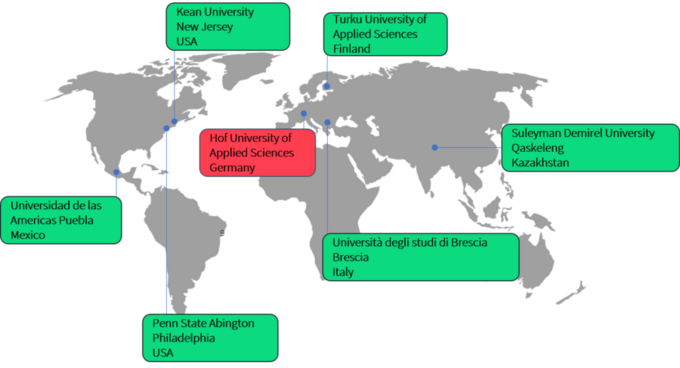 I2P2 Partner Universities
Company projects are done in cooperation with Hof University, a partner university and a company.
Cooperative lectures are held in cooperation with a professor of Hof University and the partner university.
Hof University awards scholarships from DAAD funds. The application for this is done centrally, through an online form of the International Office:
Please follow the link to apply: https://hof.moveon4.de/form/608ffbca907ef908c5520a05/deu
Only complete applications with the following documents can be considered:
Proof of academic performance (grade sheet)
Proof of English language skills (modules during studies, DAAD language certificate or English grade of the [Fach-]Abitur / A-Level)
Curriculum vitae as a table (without photo) and one-page letter of motivation: In this letter, the motivation for the stay abroad, as well as the choice of the target country or the target university should be justified.
Confirmation of receipt is given by receiving the PDF at the end of the online application.
Please note the information in our leaflet! (LINK)
Join and become part of I2P2!
Would you like to gain international experience and develop your intercultural skills without spending an entire semester abroad?
Participation in an I2P2 module promotes digital, collaborative and intercultural skills in addition to your foreign language skills.

You will work in international teams on a current topic or practice-relevant projects. You will use digital tools for virtual collaboration.

You will learn to reflect your own cultural position in order to act competently in an international environment.
Yes. Whether or not you wish to have your participation recognized by the award of ECTS is not a definitive criteria. What is most important is your motivation.
Yes, anyone can participate. Whether ETCS can be awarded for participation in the individual study programs is decided by the program directors of the respective study programs.