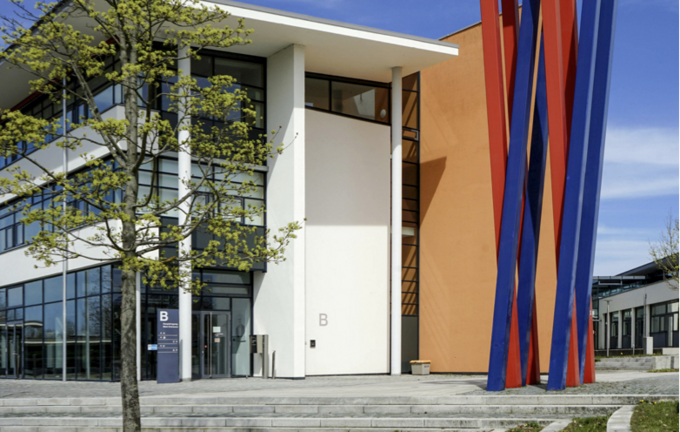 The campus is the management and administrative center of the university. Here you will find the university library, high-tech laboratories and university sports facilities.
Esther from Nigeria
"I really love the international Bachelor's degree program in Computer Science because of its very rich curriculum. It covers every aspect of computer science to a level that is not comparable to other universities. I would recommend the program to anyone wishing to study computer science in Germany at the Bachelor's degree level."
More information about our Computer Science program
In order to join the Computer Science Program you need:
University entrance qualification (if you acquired your university entrance certificate abroad, it has to be assessed by our partner uni-assist first)
English language skills proven by official test score documents (TOEFL minimum 90 or IELTS 6.5 or above)
German language skills proven by official test score documents (minimum level A1)
If you fulfill the requirements, we encourage you to send your application via our Primuss Application Portal.
There is no application fee.
Unfortunately, we do not have the capacity to pre-check any documents before application.
If you are unsure if your previous degree/school education is sufficient to study in Germany, please check it in the DAAD database by entering your data.
Before you apply, your university entrance qualification has to be assessed by our partner uni-assist.
Prior to your application at Hof University, your educational certificates have to be evaluated by our partner uni-assist first.
You need to get a so-called VPD which you can use in the appliation process at Hof University.
Yes, you can apply with a VPD (Vorprüfungsdokumentation) from uni-assist even if it was issued for another university.
You can also apply with a VPD that was issued for an earlier semester.
Please note that the decision on accepting documents is solely made by the examination board in each individual case.
For the Computer Science Program, we accept:
TOEFL iBT 90 points (or higher)
IELTS 6.5 (or higher)
Confirmation that you completed an entire study program or your entire school education in English language
Test results should not be older than three years at the time of the semester start.
The examination board decides if your proof is accepted for admission only AFTER you have submitted your application.
For the Computer Science Program, you need to prove basic German language skills with a minimum level A1 according to the CEFR (Common European Framework of Reference for Languages).
We only accept official test score documents (e.g. Goethe, telc, ÖSD).
Attendance certificates are not sufficient as proof of German language skills.
You can apply via our Primuss Application Portal.
Please note that an application is only possible during the application period.
Applications via post or email will not be considered.
You are interested in applying but still have questions?