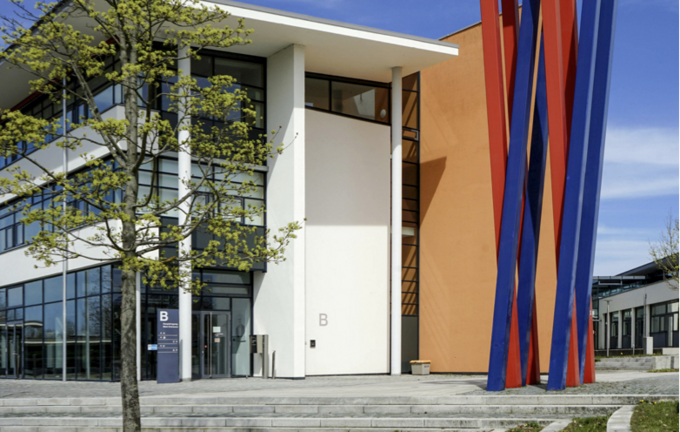 The campus is the management and administrative center of the university. Here you will find the university library, high-tech laboratories and university sports facilities.
The research topics that are addressed in this Master's program can be found as bullet points in the following list, which is grouped by research area:
Please note:
For your literature review required for the application, please pick one of the bullet points (not the research area in general)!
Cyber-Physical Systems (Prof. Dr. Valentin Plenk)
Industry 4.0 - vertical integration
Condition monitoring and predictive maintenance
Industry 4.0 - processing performance, quality and status data
Application of machine learning approaches in a production environment
Multimedia Information Systems (Prof. Dr. Richard Göbel)
New Database Concepts (NoSQL)
Distributed databases
Management of heterogeneous structured and unstructured data including spatial data and texts
Geographical Information Systems
Intelligent and Learning Systems (Prof. Dr. Christian Groth)
Deep neural networks for vision (scene and object recognition)
Generative AI for image creation
Simulation of cognitive robotic systems
Learning in robotic systems
Innovative Healthcare (Prof. Dr.-Ing. Dietmar Wolff)
Ambient assisted living technologies
Virtual and augmented reality in health care applications
Robotic technologies used in care processes
Digitalization of health care
Use cases and adoption of technologies to them
Supply Chain Digitization (Prof. Dr. Heike Markus)
Smart factory / Industry 4.0
Artificial Intelligence in Supply chain management
Supply Chain Analytics
Practical approaches for Supply Chain Digitization
Systems Integration (Prof. Dr. René Peinl)
Customization of Software as a Service (SaaS) applications
Model-driven development for low code application platforms
Natural user interfaces for IoT applications (speech, VR, AR, gestures, …)
Fast inferencing for deep neural networks on embedded systems (image, video, speech)
Natural language understanding with deep neural networks
Visual Analytics (Prof. Dr. Claus Atzenbeck)
Computer-Supported Cooperative Work (CSCW) from Knowledge Workers' Perspectives
Human-Computer Interaction (HCI) for Browsing Information Spaces
Human Factors in Information Structures
Systems and Network Security (Prof. Dr. Florian Adamsky)
Secure distributed systems
Distributed Denial of Services (DDoS) amplification
Vulnerability analysis
Privacy and anonymizing services
Gowtham from India
"The hardness of the admission process and acceptance ratio of the ARC course is directly proportional to the learning curve of the students who opt for it."
You are interested in applying but still have questions?