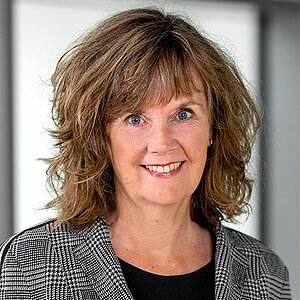 I studied at Kassel University and focused on strategic Marketing and Sales. My doctoral dissertation refered to reputation transfer. Since 2013, I am a Marketing Professor at Hof University, passionate by decision making science, strategic marketing and marketing research. In our engineering faculty I am departmental advisor, responsible for the teaching quality. Since 2016, I am the program head of a master's program in International Project Management. I am assigned to a research professorship at Hof University - my team is completed by my doctoral students, Dipl-Wirt.-Ing. Dipl. rer. pol. Maximilian Froch and Julia Eschenbacher, M. Sc. .
My research work refers to Business-to-Business and Business-to-Government Marketing. My field of interest relates to changes and requirements of relationship marketing management with reference to the Internet of Things (Industry 4.0). I am specialized in B-to-B brand management, brand loyalty programs and their effect on customer commitment, B-to-B competitive research and customer driven sales strategies. I carry out joint research with my fellow researchers at the University of Poznan, Poland, and Kassel, Germany.
I support managers to reach marketing excellence by improving their skills and knowledge in Internet of Things-related marketing concepts through training, workshops and consulting. Since 2016, I also work as an expert in digital Transformation/Internet of Things for the European Commission, Brussels.
Publications in books:
Falkenreck, C., Leszczynski, G.; Zielinsky, M. (2022): Adjusting B2B Sales Interactions to COVID 19, pp. 16-20 in: Strategic Imparatives of Modern Management, Ministry of Education and Science of Ukraine, Kyiv.
Falkenreck, C. (2021) Design Thinking-Interactively co-creating innovative products that fit the market, in Pantano, E.: Creativity and Marketing: The Fuel for Success, Emerald Publishing, London
Falkenreck, C 2019, Digitalisierungsprojekte erfolgreich planen und steuern-Kunden und Mitarbeiter für die Digitale Transformation begeistern, Springer essential, Verlag Springer Gabler.
Falkenreck, C 2015, Kooperative Unternehmenskultur und Führung als Erfolgsgrundlagen des Performance Management, in: Künzel, H (Hrsg.): Erfolgsfaktor Performance Management - Leistungsbereitschaft einer aufgeklärten Generation, Springer Verlag.
Falkenreck, C 2009, Reputation Transfer to Enter New B-To-B Markets: Measuring and Modelling Approaches, Physica-Verlag, Heidelberg
Papers in Peer-Reviewed Journals:
Falkenreck, C & Wagner, R 2021, From Managing Customers to Joint Venturing with Customers: Co-Creating Service Value in the Digital Age, Journal of Business and Industrial Marketing, DOI 10.1108/JBIM-02-2020-0100
Falkenreck, C & Wagner, R 2017, The Internet of Things-Chance and challenge in international business relationships', Industrial Marketing Management, 66 (October), 181-195.
Falkenreck, C & Wagner, R 2011, 'The Impact of Perceived Innovativeness on Maintaining a Buyer-Seller Relationship in Health Care Markets: A Cross-Cultural Study', Journal of Marketing Management, 27(3-4), pp. 225-242.
Falkenreck, C & Wagner, R 2010, 'Impact of Direct Marketing Activities on Company Reputation Transfer Success: Empirical Evidence from Five Different Cultures', Corporate Reputation Review, 13(1), pp. 20-37.
Latest conference proceedings:
Falkenreck, C., Leszczynski, G.; Zielinsky, M. (2022): Enduringly Adjusting B2B Sales and Purchasing Channels? Lessons from the Global Pandemic Crisis, Conference Proceedings of Strategic Imparatives of Modern Management, Kyiv National Economic Universit, Ukraine, online, 21. October 2022
Falkenreck, C.; Wagner R. (2022): IoT-related Business Models in Critical Infrastructure Settings: Evaluating the Drivers of Relationship Quality, Proceedings for 38th Annual IMP Conference, Florence, Italy, 30. August - 2. September 2022.
Falkenreck, C & Wagner, R 2019, Service-Dominant Logic in the Digital Age—Are Actors still Co-Designers and Creators of Value?', Proceedings of the 48th EMAC Conference, University of Hamburg, May 28-29, Germany.
Falkenreck, C 2018, 'Kunden integrieren, Projektakzeptanz erhöhen. Das 4-Phasenmodell für Digitalisierungsprojekte', Präsentation auf dem 35. Internationalen Projektmanagement Forum, Nürnberg, 23.-24. Oktober 2018.
Falkenreck, C & Wagner, R 2018, 'Co-Creation of Value in the Digital Age-Disruption Management in B2B Relationships', Proceedings of the IMP Asia Conference, Colombo, December 03-05, Sri Lanka.
Falkenreck, C & Wagner, R 2018, 'B2B Relationships and Co-Creation of Value in the Digital Age-Quo Vadis?', Proceedings of the Global Marketing Conference, Tokyo, July 26-29, Japan.
Froch. M, Falkenreck, C & Wagner, R 2018, 'How to ruin Buyer-Manufacturer Relationships - Evaluating and Comparing the Drivers of Customer Dissatisfaction in B-to-B and B-to-G Relationships', Proceedings of the IMP annual conference, Marseille, September 5-7, France.
My teaching areas refer to Business-to-Business marketing and sales strategy. In the master's program International Project Management I teach commercial project management, project marketing and classical, agile and hybrid project management methods.